Do you feel your child is not performing to his/her potential in exams?
Does your child have a fear for exams?
Is your child finding it hard to finish exams on time?
ARC is the way to go!!!

About ARC:
Assessment Review Centre (ARC) is the test centre dedicated to students who wish to be tested on the topics they have studied so far or the topics in which they encounter difficulties.
Testing is the best way to check if the learning goals are met and also helps to foresee the child's performance. Repeated testing further helps in building the confidence and in wiping out exam fear.
The primary objectives of ARC are:
To assess the child's conceptual understanding
To identify both the strong and weak areas
To measure the student's progress
To drive away anxiety and exam fear
To achieve maximum preparedness for school tests/exams
Since the needs of every student differs, we customise the question paper based on the student's needs by altering the difficulty level accordingly.
FAQs:
1. What is the purpose of conducting tests?
The main objective of conducting tests is to assess their conceptual understanding. This will further help in working on the weaknesses and in tracking student progress.

2. How does the ARC operate?
ARC functions exclusively for conducting tests with a variety of topic wise test papers. The most prominent feature of ARC is that these tests can be absolutely customised to meet your child's expectations.

3. I would like my child to take up the test. How do I go about it?
SMS us at +65 84442320, 3hrs prior to the preferred time slot. On receiving the message, we shall send you a confirmation SMS.

4. Can I choose what topic to write as test?
Yes, you are at liberty to choose the topic.
If you are unsure about the topic, we will guide you in selecting the topic based on our existing student analysis reports.

5. What is the time duration for the test?
The actual test can be for a duration of 1 hour, 1 hr 30 min or 2 hours depending upon the subject and the topic.
However, we expect the child to be present at the centre 15 min prior to the test. This 15 min is split into 10 min of preparation time and 5 min of concentration time.

6. What are the charges for the test?
To know about the charges kindly SMS Mr.Divesh Shah at: +65 84442320. Make sure to include in your text the student's Name, Grade and School.

7. Can I take the test at home instead of coming to the centre?
No, ARC does not allow for such a provision.
However Grade 10 & 12 can collect past year papers from respective departments to practice at home.
The main reason is that tests conducted at ARC are done under strict exam conditions and when the test is done at home your child may be prone to various external distractions like mobile phones, visitors etc.
Such factors will ultimately interrupt the preparation process thereby affecting the effectiveness of writing tests.
There is no way your child could be distracted at ARC, since we will collect their mobile phones and return it to them only when they have finished writing the test and all the corrections have been done. There will be invigilators during the duration of the test.

8. My child performs well in school. But he always panics when it comes to writing tests. Do you think ARC can help?
If your child is anxious about tests then ARC is the right way to get rid of it.
Anxiety or panics occur when the child stresses much on finishing the paper on time and due to the fear of scoring less marks.
The best way to overcome such hurdles is by helping them manage their time wisely and by motivating them to get rid of the misconception of writing tests.
Our concentration time of 5 mins before the test will massively help to compose them, thereby wiping out the apprehension for tests to a greater extent.

9. I always hear my child say that he is well prepared for the school exam and prefers to study at home rather than going to the centre. What do you suggest?
It is good that your child is very confident.
But as a parent, it is your duty to ensure that your child's confidence is well reflected in the test as well.
It is equally important to make sure that your child has sound conceptual knowledge.
Exposing them to testing tools is the most primitive way to measure your child's preparedness rather than just letting them study for hours together.

10. I notice that my child makes quite a lot of careless mistakes. What is the point in writing test after test?
In what way will ARC help?
Practice makes perfect!
ARC's way of practice is slightly different.
Right after the first test, the subsequent tests will be modified accordingly.
For example:
In the first test, if your child makes mistakes in the topic "Functions", then the second test will contain questions from "Functions" and questions from the topic opted for the second test.
Likewise, the third test will comprise of the questions from the topic chosen for the third test and the topics in which mistakes were committed in the first and second test and so on.
The testing process continues in this manner and the final test will cover all the weak areas spotted from the previous tests.
This will eventually help your child in eliminating the mistakes.
Our test centre works in tandem with the respective departments. Your child's weak areas will be communicated to the corresponding department and the department heads will ensure that your child best understands the concepts when he/she comes for the usual session at Mathvision.

11. Is it possible to talk to my child during the test? I need to check something with him.
We are sorry. Your child's mobile phone will be collected as soon as he/she reaches the test centre.It will be returned only when the entire testing process is done (writing the test, marking the paper and discussion of corrections)
i.e. the mobile will be returned only when he is about to leave the centre.
This firm action is carried out in order to ensure that your child is not distracted by any means of external factors, so that he gets to focus only on the test.
In case of emergency, please contact our main desk at xxxx.

12. Why should I send my child 15 min earlier than the scheduled test time?
From our experience, we have seen many kids who get anxious thinking about the test. And due to this anxiety, they tend to forget what they have learnt.Hence we will give your child 10 min of preparation time in which they can independently revise all the concepts and formulae.
Another 5 min of concentration time will be given during which they can calm themselves down.
This will further help them in directing their focus towards the test.
Also our test coordinators will brief about the exam techniques like double checking the work,reading the questions carefully, showing legible working etc.
Hence, we expect the child to be present 15 min early.

13. Will my child have some preparation time before the test?
Yes. Your child will be given 10 min of preparation time during which your child can independently revise all the concepts and formulae prior to starting the test.

14. Can my child leave the centre if he finishes a 1 hour long test in say 40 min?
We will not encourage this, as most kids tend to rush and finish the paper without even crosschecking the answers.
We always insist the kids to double check the paper again and again so that all careless mistakes can be spotted and corrected. This practice will make double checking as a habit and in turn will help in the actual exam as well.

15. When will I get my child's test score?
Once your child finishes the test, the paper will be marked right away and the score will be sent to you via SMS.
The mistakes will be explained and corrections will be done then and there.
However, if the mistakes are more than 25%, then they will be discussed when your child comes for the next usual session at Mathvision.

16. Will I be able to get a performance review after the test?
Certainly! We will be sending you a detailed report about your child's performance and the areas of concern. You can login through our Mathvision website in which you have already been receiving your child's reports.

17. My child is finding the tests too easy. Can they be more challenging?
Of course! We can customise the test to be extremely challenging and to provide food for thought.

18. Can I get some test papers for my child to do at home?
The test papers are to be strictly done at the ARC under perfect exam conditions.
We will not provide any customised test papers to be carried home.
However Grade-10 and Grade-12 students can collect past year papers from their respective departments and they can solve it at home if they wish.

19. Do you offer tests for competitive exams?
Apart from topical and full portion tests, we can test your child on wide range of entrance and competitive exams too.
Listed below are some of the well-known competitive exams.
NAME OF THE TEST
OFFERING COUNTRY
MAP Test
AMC
ASMA
SSAT
PSAT
SAT
ACT
ISEE
SCAT
Measures of Academic Progress Test
American Mathematics Competition
American Scholastic Mathematics Association
Secondary Schools Admission Test
Preliminary SAT
Scholastic Aptitude Test
American College Testing
Independent School Entrance Exam
School and College Ability Test
Canadian Gauss 7
Canadian Gauss 8
MathCounts
USA & Canada
SASMO
SEAMO
SIMOC
SMO
SMKC
ISMC
Singapore and Asian Schools Math Olympiad
Southeast Asian Mathematical Olympiad
Singapore International Math Olympiad Challenge
Singapore Mathematical Olympiad
Singapore Math Kangaroo Contest
International Singapore Maths Competition
Singapore
AMC
UNSW
ICAS
ISA
Australian Mathematics Competition

International Competitions and Assessments for Schools
International Schools Assessment

Australia
UKMT
UKCAT
PMC
BMAT
LNAT
PAT
TSA
KS1,KS2,KS3
United Kingdom Mathematics Trust
UK Clinical Aptitude Test
Primary Mathematics Challenge
BioMedical Admissions Test
The Law National Aptitude Test
Physics Aptitude Test
Thinking Skills Assessment
Keystage Tests
11+, 12+,13+, 14+, 16+ entrance exams
United Kingdom
INMO
NSO
NCO
IEO
Indian National Mathematical Olympiad
National Science Olympiad
National Cyber Olympiad
International English Olympiad
India

20. What are the other tests you conduct?
We also conduct a wide variety Reasoning and IQ tests like
Abstract Reasoning Test
Deductive Reasoning Test
Inductive Reasoning Test
Spatial Reasoning Test
Mensa Test
Quantitative Reasoning Test
Situational Judgement Test
Numerical Reasoning Test
Cognitive Reasoning Test
Mental Math Test
ABSTRACT REASONING
The abstract reasoning test is also called the conceptual reasoning test. It measures the student's ability to identify patterns, logical rules and trends in new data, integrate this information, and apply it to solve problems.
Example: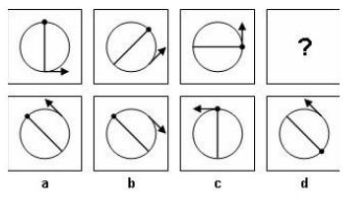 Answer: d
The line makes a clockwise movement and the arrow moves anticlockwise
DEDUCTIVE REASONING TEST
Deductive reasoning, is a valid form of proof. It is, in fact, the way in which geometric proofs are written.
It is the ability to arrive at a conclusion from previously known facts. In other words, the answer is derived from a given set of rules which were already proved to be correct
Example:
A latin square has two important properties:
A row or column never contains the same number twice
Every row and column contain the same numbers
A full latin square is shown below
In the question below, which number should replace the question mark?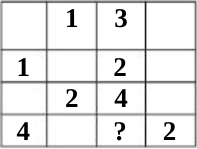 a. 1
b. 2
c. 3
d. 4
Answer: a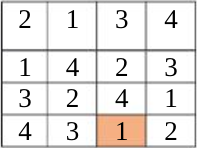 INDUCTIVE REASONING TEST
Inductive reasoning is the skill to find the answer based on a set of observations. In itself, it is not a valid method of proof. Just because a person observes a number of situations in which a pattern exists doesn't mean that that pattern is true for all situations.
An inductive reasoning test most often presents sets or series of figures where the objective is to predict the next or missing figure.
SPATIAL REASONING TEST
Spatial reasoning or spatial visualization ability allows you to visualize three-dimensional images in your mind and to mentally manipulate these images and twist and turn them into the shape you want. Spatial reasoning is important for generating solutions in areas such as architecture, engineering, science, games, etc.
MENSA IQ TEST
Mensa is the organization who accepts only those who score in the 98th percentile on an IQ test. Mensa is the most well-known, most prestigious and oldest high IQ society on the planet.
QUANTITATIVE REASONING TEST
The Quantitative Reasoning test assesses the kid's basic mathematical skills, understanding of elementary mathematical concepts and the ability to reason quantitatively and to model and solve problems with quantitative methods.
Example:
Amy is training for a race. She runs 10mph and completes the track in 151.2 minutes. Her cousin Helene completes the same track in 3.5 hours, how much faster was Amy?
Answer: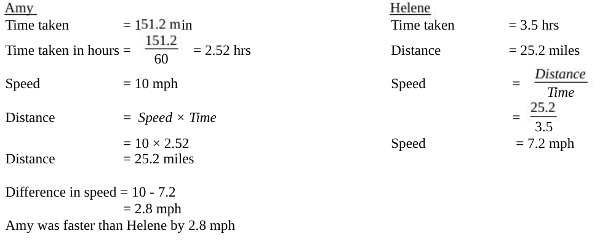 SITUATIONAL JUDGEMENT TEST
Situational judgement tests are a type of psychological aptitude test that assesses judgement required for solving problems in real time situations. It assesses the student's judgemental and decision making ability.
Example:
Stan is working as an administrator at an investment bank. In three months the branch will change its banking information-system. What is the best response Stan should take in order to respond to this change?
a. Refer clients and staff members to employees with more experience in the system.
b. Stan should turn to his supervisor every time he has an important question.
c. Stan should take time to take the online course and read the system guide.
Answer: c. Being prepared and adaptable to the situation
NUMERICAL REASONING TEST
Numerical reasoning tests the candidate's ability to interpret, analyse and draw conclusions based on numerical data provided in facts, figures, graphs or tabular form. The skill needed to solve the questions include the ability to analyse trends in graphs, ability to perform estimates based on data provided, basic arithmetic operations and critical thinking.
Example:

What is the increase in % of the registered business in Harare between 1920 and 1980?
Answer:

MENTAL MATH TEST
The mental math test helps in assessing the kid's mental math ability. In other words, it is a test which is done without a calculator. This helps in training the brain to perform arithmetic operations at a greater speed.
The test is all about answering a set of questions (addition, subtraction, multiplication,divison etc.) within a given time limit.
Remember no calculators are allowed !