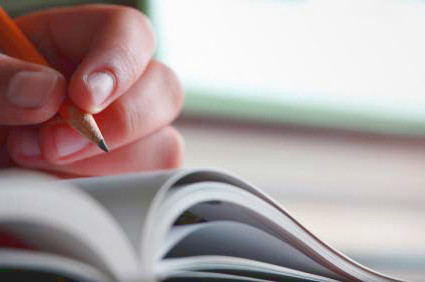 1. All About the ARC
What is Assessment Review Centre (ARC)
It's quite simple, really. We help you with the test taking. The thing about test taking is pretty much the same as with everything else: the more you practice, the better you will be at it.
The underlying premise is this: learning and understanding the content of a subject will only get you that far.  You're going to need just a little bit more, that extra push, if you want the right results.
The ARC is all about practicing taking tests. You register to take an exam, and in a controlled and timed environment, you take it.
That's when the real learning happens.
You identify the real difficulties you face in an examination scenario.
You discover new ways to manage your time – how to optimize a scoring scheme with limited resources. (Sounds like a math problem doesn't it?)
You confront and dispel all examination-related anxieties.
That's three birds with one stone.
2. Why should you attend the ARC?
We understand that not every child learns at the same pace. And so we try to smoothen the learning curve by easing you into the exam-taking process.
We rate our tests based on their difficulty level (Level – 1, Level – 2 and Level – 3). A child struggling to keep up can start with Level – 1 and then move his way up. Just like in a video game.
These exams with their incrementing difficulty levels are designed to build your confidence.
For the smarter among you too: regular testing will keep you on your toes. Greater speed, greater accuracy, better understanding of how to allocate your time – that's what you need to go home with. And that's why you need the ARC.
3. Students of which schools in Singapore can take these assessments? What subjects are covered?
Pretty much all of you.  We have the students from UWC, OFS, SAS, Tanglin, CIS, Chatsworth, AIS, GIIS, DPS, NPS, Raffles, ACW, Hwa Chong and several local schools.
Subjects:  Math, Physics, Chemistry, Biology, Economics, Business, ICT
Competitive Exams: Olympiad, Gauss, UKMT, Winchester, IMO, American Maths Challenge, BMAT, GMAT, GRE, UKCAT, ACT
Note: If a child from any school not mentioned above wishes to sign up, please contact us via WhatsApp at the following Phone Number: +65 84442320. We will get back to you at the very earliest.
4. If a student is not in Singapore, can he take a test at the ARC?
Oh Yes! We have assessments for any child studying in any school and following any curriculum anywhere in the world!
Step 1. Email your requirements and difficulty level to:
mathvision.com.sg@gmail.com.
You will receive your test paper within 24-HOURS in a PDF format.
Step 2. Complete writing your test and send us a SCANNED copy of your answer sheet.
Step 3. The corrected answer sheet and a detailed marking scheme will be emailed to you in the next 24-HOURS.
[If a student is still facing problems understanding the concept behind the scoring, a SKYPE call can be arranged for 10 – 15 minutes to clear all the doubts]
5. How can a student schedule an examination?
Let us know a day in advance. Text us  at: +65 84442320. Make sure to include in your text the student's Name, Grade, School, Topic and Difficulty Level at least one working day before the desired date. That way we can ensure we have a test waiting for you by the time you come in.
6. Is this only for children preparing for their final examinations?
We have a variety of assessments for you to choose from, based on each student's specific needs:
Assessments for End of Year Exam preparation.
Assessments for a particular topic with different difficulty levels.
Assessments for collective topics for a School Quiz/Test.
Assessments to improve Mental Math.
Assessments in preparation for Competitive Exams.
General Assessment to test understanding of a particular subject/topic
7. How does the Assessment Review Centre (ARC) ensure QUALITY of the tests and the results?
We've been doing this for a while now. Seven years in Singapore. And for seventeen years before that, in Mumbai. We have teams of tutors working on examinations for the IGCSE, CIM, IB level, American Syllabus, Australian Syllabus, Competitive Exams and Singapore Local Syllabus.
We allow you to take an exam. Then we'll correct the script, right there, with you. We'll discuss the questions and their answers with you as we encounter them on your script. You'll also have someone walk you through the exam – resolve your doubts, strategize time allocation for the next practice test, and discuss your score and scope for improvement. It'll all happen in situ, on the spot, within minutes of your handing in the exam!
For more information kindly refer to the FAQs.
8. Are there any assessments available for Languages?
For Language Assessments, check out the team at USOL here: www.myusol.com.
USOL is our sister concern which focuses on languages – English, Literature, French, Spanish and Mandarin. Our dedicated team of more than 15 teachers provides 300 students with one-on-one customized coaching.